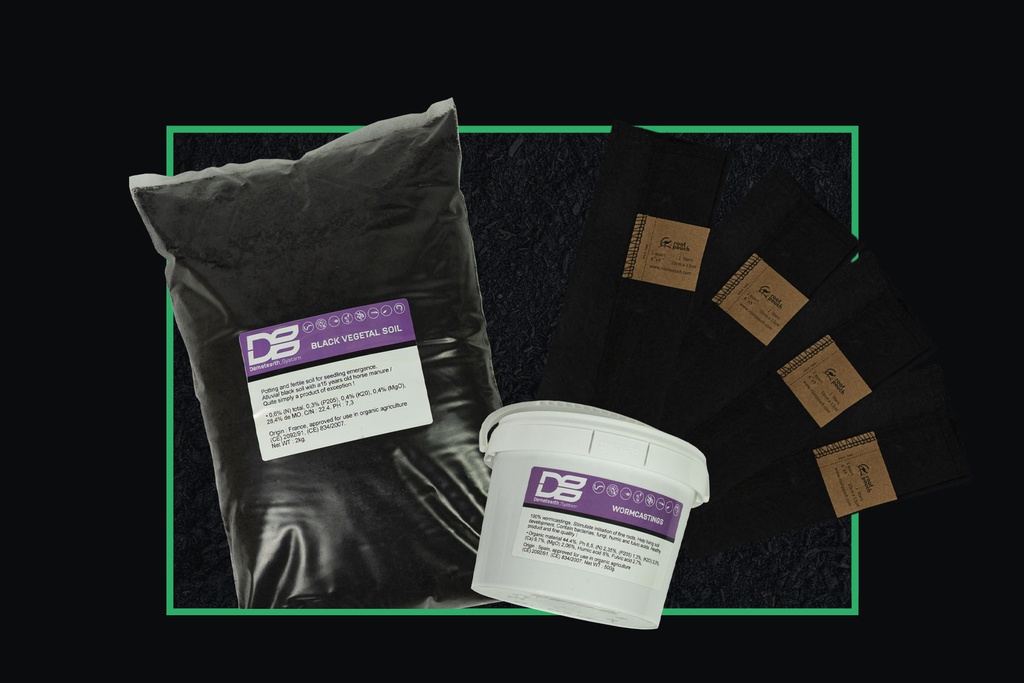 Germination Pack
---
Shorten germination time and increase root development for better nutrition and healthy plants.

The germination pack has been designed to be very easy to use. Simply mix the vermicompost with the topsoil and then repot into the Root Pouch and sow any seed of your choice.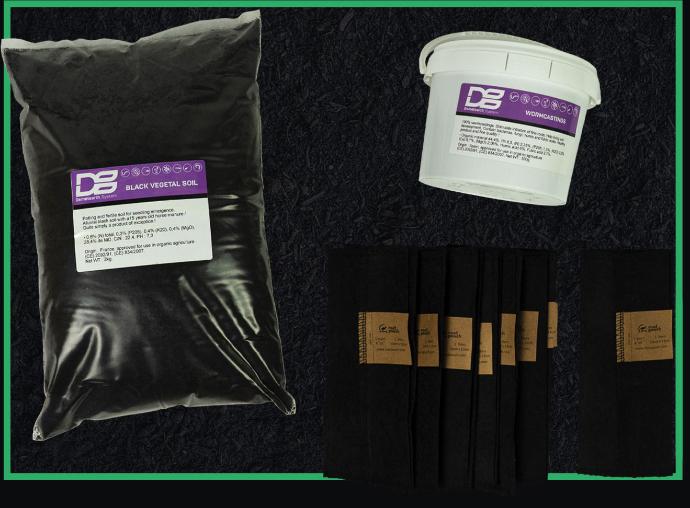 Vermicompost is known to be a very strong stimulant for root development. It is also very effective in building disease resistance, maintaining stable moisture and helping nutrients to settle on the roots.

The benefits of vermicompost will be increased tenfold thanks to the geotextile pots made from 100% recycled and recyclable materials. The structure of the Root Pouch will allow your soil to breathe so that the roots can capture the nutrients in the air.
The roots will be more quickly solid and in much greater quantity, which will allow them to capture the nutrients present in high concentration in your pot.

Seedling Mix Pack Composition
Lombricompost
L'Amendement organique. NPK : 2,35-1,3-3,3
garanti sans adjuvant mineral.
NFU 44-051.
Utilisable toute l'année en AB CEE 2092/91.
Origine : Espagne.
Analyses du 27-01-2017 :
Matière sèche 65,1%

Matière organique 44,4%

Ph 8,5

CE 6,57dS/m

Azote (N) 2,35% dont NO3 0,29%

Phosphore (P205) 1,3%

Potasse (K2O) 3,3%

Calcium (Ca) 9,7%

Magnésium (MgO) 2,06%

Fer (Fe) 1,18%

Sodium (Na) 0,82%

Soufre (S) 0,77%

Acides Humiques 6%

Acides Fulviques 2,7%
Terre Végétale Noire
Terreau ou terre végétale alluviale avec compost de cheval  ayant travaillé 20 années !
Écologique, restructurante, la terre végétale noire enrichit et aère le sol (notamment les sols argileux) durablement tout en lui redonnant jeunesse ! Vos récoltes seront significativement plus lourdes, plus goûteuses, plus belles, plus précoces, vos plantes plus robustes.
Fort taux de rétention d'eau. Produit d'exception !

Pots Géotextiles Root Poutch
Des pots géotextiles inventés par des arboriculteurs 100% en matière recyclées et recyclables , hyper-résistants et à très hauts rendements racinaire.
L'engrais principal c'est l'air ! L'air étant composé de 80% d'azote et les plantes prenant 80% de leur azote de l'air.
Augmentation de la production des cultures de 15 à 20% par rapport à des pots traditionnels.
Lavables donc réutilisables des dizaines de fois grâce à une technique de tissage unique. Anti-UV. Capte la chaleur et résiste au froid.
La largeur du pot est plus longue que la hauteur ce qui permet une meilleure aération de la terre et évite le gaspillage d'amendement.
Adaptés pour l'intérieur et l'extérieur : les cultures florales intérieures, l'hydroponie, les terrasses et balcons (jardinières), les potagers, le goutte-à-goutte